Reading Berkshire
We have half a Banksy!

The graffiti appeared March 2021 but within a week it had been vandalised
The Biggest town in England!
Reading Berkshire is 37 miles west of central London and by train, London Paddington is 25 minutes away. The M4 motorway provides easy access to London, Maidenhead and Newbury.
History
Historically Reading was well known for the 3 B's Beer, Biscuits and Bulbs (in that order). Unfortunately, these industries have declined in the town. King Henry 1st is buried in The Abbey.
Business
A large number of Corporate IT Companies and Insurance Companies are located within the Reading area as well as its fair share of large Law firms. The Thames Valley is known as the Silicon Valley of England and Artofdata.com Ltd is located in Tilehurst, a stone's throw from Thames Valley.
What is there to see?
Not much, but if you need somewhere pleasant to eat your lunch, just across from the train station are the Abbey Ruins that back onto the River Kennet.
We do however have the famous Maiwand Lion in Forbury Gardens, the River Thames runs directly above Reading separating Reading from Caversham, and on the Northside of the Thames river, you will find Caversham Court Gardens.
If you want to go shopping, we have the very modern Oracle shopping centre that is bisected by the River Kennet.
Football
Reading FC play in the FA Championship league. They are Championship record-holders 106 points in the 2005/06 Season. The Ladies Football Club play in The WSL. The ladies are arguably more successful than the men as they play in the topflight league and my daughter is in the girls' academy, so I'm biased.
Music Festival
Famous for the longest-running rock festival "Reading Festival" formerly known as Reading Rock. The music festival is one of the largest in Europe. Strangely in 2000 Daphne and Celeste were on the same line up as Slipknot and in 2001 Marilyn Manson Duetted with Eminem.
Famous People who have visited.
Ayrton Senna who has a road named after him (Tilehurst), Brian Adams (Summer of 69 in Tilehurst?) and Oscar Wilde (Reading Gaol (Jail)).
New Legal Advice Company in Reading. Web Design and SEO By Artofdata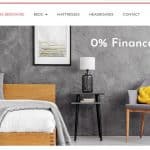 Retail eCommerce Website for Sams Beds Reading Sams beds Reading is a family-run bed business on The Oxford Road Reading looking for a Retail eCommerce Websites Reading company. They were…